| | |
| --- | --- |
| Posted on May 26, 2015 at 10:40 AM | |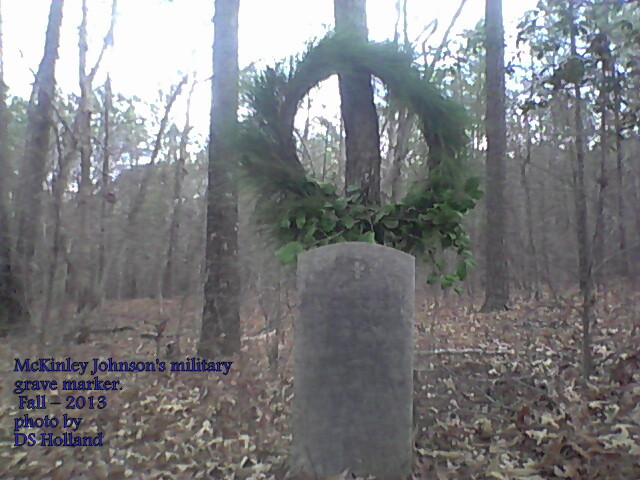 MEMORIAL DAY , a time to remember ....
We have written before about the family gravesite of an WWI African American soldier McKinley Johnson here at our blog.
I received an email from someone that lives at the TARGET area for the Dumping of 8Million Tons of #coalash .
David Holland a Vet has spoke out many times against this dump already . He had told me back sometime ago how he too knew of the gravesite and he has visited often living around there . Even done some research on his own. Just this week he looked back through his photos and found this picture , sent the picture and a story to go with it .
___________________________________________________
FROM DAVID : McKinley Johnson's military grave marker. Fall – 2013
Not so long ago, in the fall of the year, maybe 3-4 years ago, I saw a story about a man on the TV. For some reason, because of the man he is, I guess, this man placed a wreath in Arlington National Cemetery. It may have been for a son, I don't know. After that, this man decided to place more wreaths upon many more of our Heroes' graves. As I understood it, this man finally decided that if he could, (which he can't) he would place a wreath upon every one of our soldier's graves throughout our nation, from all time periods. It was amazing and inspiring to say the least. I watched the people who came out to help this man place the wreaths, many of which were donated, on the graves. It was such a big job, the size and layout of Arlington is overwhelming! Well, when it was done, it was sure a sight to see. Those wreaths just capitalized the graves that capitalize our beloved Heroes that lie beneath. It brought back humanity, in a sense, to that formation of cold stone markers. That man, with his somewhat sad, wonderful act, inspired me deeply. And I made a vow to help him out. I knew of one soldier that this gentleman wouldn't be able to get to. I wanted Mr. Johnson to be a part of these brethren too, and perhaps also for self-reason. Anyhow, may God bless this man, this country, and McKinley Johnson!
DS Holland 05/22/15
________________________________________________
So it turns out Mr. Johnson has many caretaker in the past!
Will you help us fight for his family resting place ?
Go to here to donate to the folks fighting www.crowdrise.com/coalashfightagainstdukeenergy
Make a donation in honor of Mr. Johnson and his family . 
Look around here too for the other stories about the Johnson Family. 
Categories: Gravesite story , Coal ash