| | |
| --- | --- |
| Posted on December 28, 2014 at 3:25 PM | |
Well a lot has happened over the holidays as far as learning more on this project . For those of you that need catching up go here and read the story ... 
http://www.environmentalee.org/apps/blog/show/42952772-don-t-dump-coal-ash-on-mckinley-johnson-grave-site-  
We have had family members connect with us on facebook that has been doing research on the Johnson family for years now but did not know where it was .
Now hopefully we can work together to really have a story .
We heard from Emanuel Hyde III , who has been researching the Johnson and Minter family since 2005. He gave us this information too. ...

So now we have McKinley Johnson's with military headstone  .
His mother, Maggie Palmer Johnson,
His Father Israel Johnson ,
Delia Johson Womack
and husband Matthew Womack. 
Emanuel plans to come from VA soon to visit the graves and bring wreaths too. Hopefully we'll get some pics or video to share on this too. Read his post and there is even more names of family .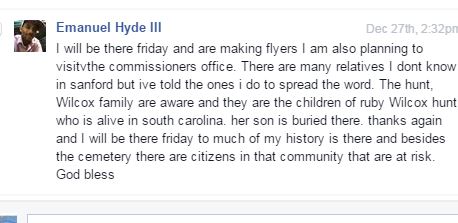 We have now gotten the gravesite put on a list too! Check it out , they said as we find information they will be glad to add to it .  http://cemeterycensus.com/nc/lee/cem032.htm
Also spoke with Mr Ervin Fox of the Lee County NAACP and they are going to work with us too on this research and fight !
So that is the update ... I hope i did not miss anything ? 
BTW if anyone knows the folks that work with The Heritage Foundation Inc here in Sanford . Please let them know about this project too. I did send them an email asking them to check out our blog on this . There was a cool article about the hard work they have done to preserve graves here in lee county too. 
http://www.sanfordherald.com/x1736890864/-Choosing-not-to-forget
Categories: Gravesite story